HMRC Staff Still Not Picking Up The Phone
If HMRC was a commercial organisation it would be bust, no email, poor customer service, poor complaint structure, don't make the profit they should, little compensation when things go wrong and – when you want to call them – TO PAY THEM MONEY – they don't pick up the phone.
Why are they doing so badly? It's a lack of accountability and a belief that they don't have to run on the same commercial principles as the rest of us. So they slash staff in the very areas where they are needed most – the front line – and those staff are de-skilled so they often give out the wrong advice.
Is this bad? Well not for HMRC who are protected, their line is that you are responsible for getting the correct amount of tax in and even if they give you wrong advice and you follow it, then it's still your fault. Like I said, they wouldn't last long in the commercial world.
Which magazine did their own tests to see just how back HMRC really were at picking up the phone. Given that the title is, "Is this the UK's slowest helpline?" You are not going to be too amazed by the results.
—
As the deadline for self-assessment tax returns looms we embarked on our annual check-up on HMRC helpline waiting times. The results are in, and it looks like lengthy waits could be in store for you.

Working on our new HMRC call waiting times investigation felt a bit like 'Groundhog Day' for me.
Just like just last year, we made 100 calls to the self-assessment and general enquiries helplines and recorded how long it took to get through to an adviser.
And just like last year, we were shocked by the average wait- a shocking 38 minutes, compared to 18 minutes in 2014.
Flagging the findings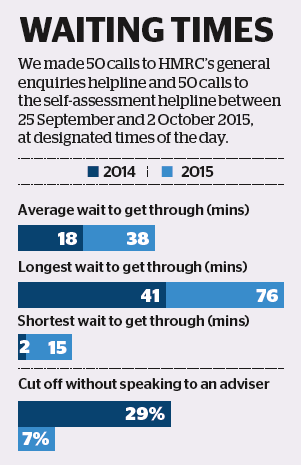 Almost one in five calls we made kept us waiting for over an hour. This might not surprise some commenters on Which? Conversation but, even so, it's pretty outrageous.
HMRC has now modified its switchboard, so that fewer calls get cut off automatically. This year only 7 of our 100 calls were terminated, compared with 29 last year.
We found that the later in the day we called, the longer we were waiting. Before 2pm the average wait was 28 minutes but after 6pm it increased to 61 minutes. And the longest wait we had was 1 hour 16 minutes.
Read the full article from Which here.