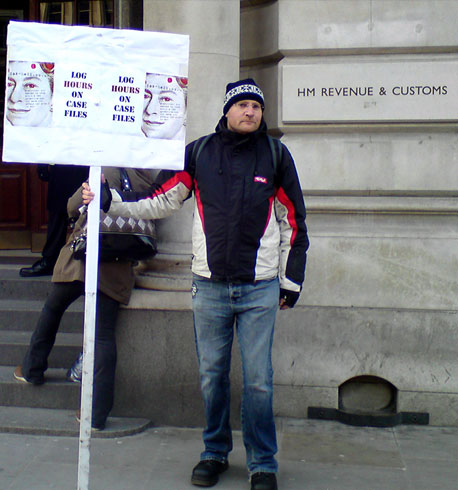 Who Do We Think We Are?
Tax Hell is run by award winning investigative journalist Nick Morgan. He's supported by a range of tax professionals, most of whom would prefer to remain anonymous.
What We Do
We help the unrepresented (and poorly represented) in tax investigations carried out by Her Majesty's Revenue & Customs (HMRC). And this is how we do it…

Solving problems by going to the top and using email I'll start with a cautionary note, this method is often an effective way of getting quick results BUT it has to be a simple problem with a commonsense fix. More complex problems can't be sorted out like this, you'll have to use more orthodox methods. […]

Success story from Tony A, Tony says: "I bought a copy of your book about 5 years ago, best money I ever spent, armed with that and a good accountant I was able to dodge the HMRC bullet. "To cut a long story short HMRC were into me for 10 months. They wanted to go […]

Dear Tax Hell I received a letter from Ms W yesterday afternoon saying that she has closed the compliance check into my tax affairs! I am so grateful to you – as without your kindness, endless patience and professional expertise this outcome would not have been achieved and could have potentially dragged on for years […]
What People Are Saying:
I found the Tax Hell ebook easy to read and very informative. I will definitely recommend the book and the website to clients.

Accountant, Accounts Matters

Informative for tax professionals and the unrepresented alike – a great read.

Director, TaxationWeb

Nick says a lot of things in the ebooks that many accountants and tax advisers would probably like to say to the Revenue just before they retired from the profession!

Managing Editor, TaxationWeb

The investigation system is weighted against the unrepresented taxpayer. This book does a great job in explaining the pitfalls.

Director, rossmartin.co.uk

A good and easy to read guide for anyone caught up in an HMRC tax investigation. A must read for any Self Assessment taxpayer.

Director, HMRC is Shite

Great Book!! I wish I'd known this information 6 years, 4 tax Inspectors and 2 Commissioners' hearings ago!

Brilliant guide. Clear and is to the point, precisely what you need when you are pulling your hair out! Highly recommended!

In late 2011 I received a startling phone call at my place of work from HMRC, claiming that I owed them £17,000 in unpaid taxes. I downloaded Everything you wanted to know about Tax Investigation. It was clear, concise and incredibly helpful. Today HMRC have dropped their case. Needless to say, I'm thrilled to put this whole affair behind me.

Penalties is a very handy companion to the Everything You Wanted to Know book.