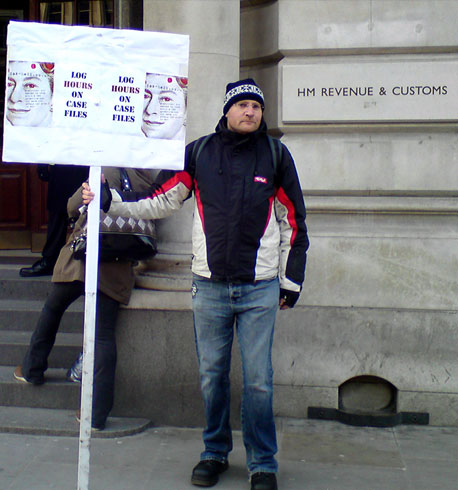 Help us deliver a better and fairer HMRC that this country needs
Make a recurring commitment to support Tax Hell long-term or a single contribution as and when you feel like it – choose the option that suits you best.
Donate £1

Thank you for stopping by and helping out.
Donate £5
Yeah! Tax Hell will send you personalised thank you.
Donate £5 per month

Boom! This is really beginning to have an impact, it's the regular income that allows us to grow.
Donate £10 per month

Now you are crew; you'll get monthly updates on what's happening behind the scenes.
Donate £15 per month

Yes! You'll get the monthly updates and also a chance to give your ideas about how Tax Hell can grow and help more people.
Donate £20 per month

You'll get the monthly updates, a chance to contribute and an exclusive Tax Hell mug with our logo and 'crew' on it.
Donate £30 per month

You'll get the monthly updates, a chance to contribute and an exclusive Tax Hell mug with our logo and 'I went to Hell and all I got was this mug' written on it.
What People Are Saying:
I found the Tax Hell ebook easy to read and very informative. I will definitely recommend the book and the website to clients.

Accountant, Accounts Matters

Informative for tax professionals and the unrepresented alike – a great read.

Director, TaxationWeb

Nick says a lot of things in the ebooks that many accountants and tax advisers would probably like to say to the Revenue just before they retired from the profession!

Managing Editor, TaxationWeb

The investigation system is weighted against the unrepresented taxpayer. This book does a great job in explaining the pitfalls.

Director, rossmartin.co.uk

A good and easy to read guide for anyone caught up in an HMRC tax investigation. A must read for any Self Assessment taxpayer.

Director, HMRC is Shite

Great Book!! I wish I'd known this information 6 years, 4 tax Inspectors and 2 Commissioners' hearings ago!

Brilliant guide. Clear and is to the point, precisely what you need when you are pulling your hair out! Highly recommended!

In late 2011 I received a startling phone call at my place of work from HMRC, claiming that I owed them £17,000 in unpaid taxes. I downloaded Everything you wanted to know about Tax Investigation. It was clear, concise and incredibly helpful. Today HMRC have dropped their case. Needless to say, I'm thrilled to put this whole affair behind me.

Penalties is a very handy companion to the Everything You Wanted to Know book.